The ALLROUNDER Balancing Supplement For Cats
$54.95
⭐️ ⭐️ ⭐️ ⭐️ ⭐️ ⭐️
"Amazing. It took a few days…to transition both cats over to bestie. After this they were really enjoying their meals. Their litter required less cleaning and they were not drinking nearly as much water. As a cat lover I feel great knowing that everything they were consuming was contributing positively to their health and wellbeing." Yas, cat mum and bestie Allrounder customer
Be confident your raw feeding gives your cat all they need, and more. (And say goodbye to lengthy prep.)
22 all-natural ingredients in one supplement, that adds what meat doesn't have, to make complete and balanced meals. Plus, The Allrounder's loaded with extras, to help maintain good joint, gut and immune system health.
Customer Reviews
04/13/2021
Anonymous

Australia
I recommend this product
It's a nice thick gravy and mixes well but it needs more
Crude protein should be around 44% crude fat 17% crude fibre 0.3% and total carbohydrates 3.6% my cats are eating it,so I'm happier feeding raw then anything else good value for money.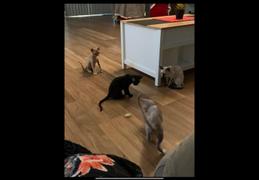 04/13/2021
Bestie Kitchen
Hi and thanks for trying bestie. We're really thrilled that your cats are eating it. Just a query though re your statement about what cats need; where did you get those figures from? For AAFCO, the min requirement on a DMB for protein is actually 26% and 30% (maintenance and growth respectively); and fat is 9%; with no minimums in the profile for fibre and carbs. In NRC, (on which AAFCO is based) it's 40% min (adult cats) with 50% recommended and fat recommended at 22.5%. Given that the balancer is fed with meat, the nutrients provided by the combined meal are important, not the ones for the supplement on its own. Using lean beef as an example, bestie for cats and beef provides 65% protein, 26% fat, 1.3% carbs and and 3% fibre.
03/23/2021
Anonymous

Australia
I recommend this product
Allrounder balancing supplement for cats
My 2 took about a week to get used to product. They were raw fed once a day beforehand but having this added was a bit of stress at time. Re amount required. It can be a bit much considering amount of food to mix Bestie into. Cats are smaller in general compared to dogs. Second thing I'd also already mentioned to Amanda is feed recommendation for various proteins as currently limited to 4. She is working on it. All in all a great product for cats My 2 look and feel better already. Now meowing when I get Bestie out from cupboard at mealtime - no meat in sight yet. Highly recommended for cat owners who want to raw feed but am worried about nutritional gaps.
03/23/2021
Bestie Kitchen
Thanks so much for your feedback; and yes, we'll be adding the feed guide for those extra proteins soon. Good to hear you got through a transition phase and that your cats like it!
11/16/2020
Anonymous

Australia
I recommend this product
Success!
My cats transitioned and accepted this quite easily which is an indicator of a great product. Thank you
11/16/2020
Bestie Kitchen
Thank you! That's great to hear.
09/24/2020
Susan R.

Australia
04/23/2020
Yas

Australia
A comparison
So I took the cats off Bestie at the beginning of the COVID-19 panic where there was no mince in sight! Put them back on it a week ago and there was a huge turn around. Mr Frankie became so affectionate (which happened when he was on Bestie before) and Miss Juno became more playful! Also their litter did not have to be cleaned out constantly (less poo and wees) and they were drinking far less water. The comparison from feeding them Bestie then back to tinned food now back to Bestie was incredible!
04/23/2020
Bestie Kitchen
Thank you Yas! That's a great comparison...thanks for sharing. We're glad it's making a difference to them (And you. More cuddles!)
04/14/2020
Yasmin S.

AUSTRALIA
Clearly what is Best!
Amazing It took a few days (perhaps a week) to transition both cats over to bestie. After this they were really enjoying their meals. Their litter required less cleaning and they were not drinking nearly as much water. As a cat lover I felt great knowing that everything they were consuming was contributing positively to their health and wellbeing
04/14/2020
Bestie Kitchen
That is excellent Yasmin - thank you! So glad it was a hit with both your cats.
04/03/2020
Jenny M.

AUSTRALIA
longer lead time needed for cats?
Amanda's support and advice was excellent. My cats were very fussy. We tried a lot of different ideas. They only ate it with the kangaroo mince and I had to give them 1/2 of what they needed. My cats are very fussy anyway. They also eat very bland food usually so I think a longer run in with them might have been helpful.
04/03/2020
Bestie Kitchen
Thanks Jen, cats can be fussy! We learnt from these earlier trial experiences so now recommend the longer transition schedule and provide a complimentary pack of nutritional yeast with the first order, (to sprinkle on top), to help those fussy cats make the transition.
03/31/2020
Anonymous

AUSTRALIA
Besties satisfies the carnivore in my cat
The transition to high protein with Bestie supplement pretty easy. The guidelines provided meant that the balance was right and my cats are more satisfied and healthier than ever .
03/31/2020
Bestie Kitchen
Thank you! So glad to see it's good for them.
03/31/2020
Margaret W.

AUSTRALIA
Another Winner
Sully loved the Bestie supplement for cats and he's not an easy boy to please! he can be very picky with his meals but he didn't hesitate to eat every meal with Bestie. It's so good to know we're feeding our precious babies with the best available nutrition we possibly can too. I'd recommend the Bestie Supplement for all cat owners if they want to feed their cats a quality balanced diet without a lot of fuss
03/31/2020
Bestie Kitchen
Thank you Margaret! So glad Sully loved it.
03/31/2020
Anonymous

AUSTRALIA
My cats love it!
My cats were already on a diet of fresh, raw food with a variety of supplements added, and I was curious to see how they found the Besties. Short answer - they loved it! They tucked in to their food with enthusiasm, and one of my cats, who typically leaves a little bit in the bowl most meals, polished his off every time.
03/31/2020
Bestie Kitchen
Thanks heaps for trying it and glad it was a hit!
03/31/2020
Sharyn Q.

Australia
Great for my cats
I found using Bestie for Cats great. My lazy persian had a weight problem and was in danger of getting Diabetes so she was trialled on Bestie for cats. Both cats eat a mostly raw diet anyway but adding Bestie has helped keep them satisfied and the Persian has lost a Kilo in weight following the Bestie Plan. The bonus for me is she had constant diarrhoea that I had tried everything to help but since starting Bestie she has returned to normal. That was a very unexpected bonus. The cats are happy eating it and it seem to be working very well for them so I will continue to use it.
03/31/2020
Bestie Kitchen
Thanks so much Sharyn - so thrilled it worked well for them - especially the lazy one!